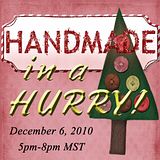 Yippie! I was picked as one of the vendors for the Handmade in a Hurry Expo on December 6th. This is an online Facebook event. An Expo online line, you don't even have to leave your sofa to attend. How cool is that. Be sure to stop by. I will send out reminders before the event.  My Etsy Bootcamp buddy is providing items for the prize drawings for this sale!
EVENT INFO Below
"Handmade for the Holidays"
November 12-13, 2010
"Handmade IN A HURRY!"
December 6, 2010 5PM – 8PM MST
Looking for that last minute gift? Want something that's going to be unique, one-of-a-kind and really special? Find us on Facebook and Twitter to get an invitation to this exclusive, online shopping event featuring handmade items that are great gift ideas and READY TO SHIP to you in time for gift-giving this holiday season!